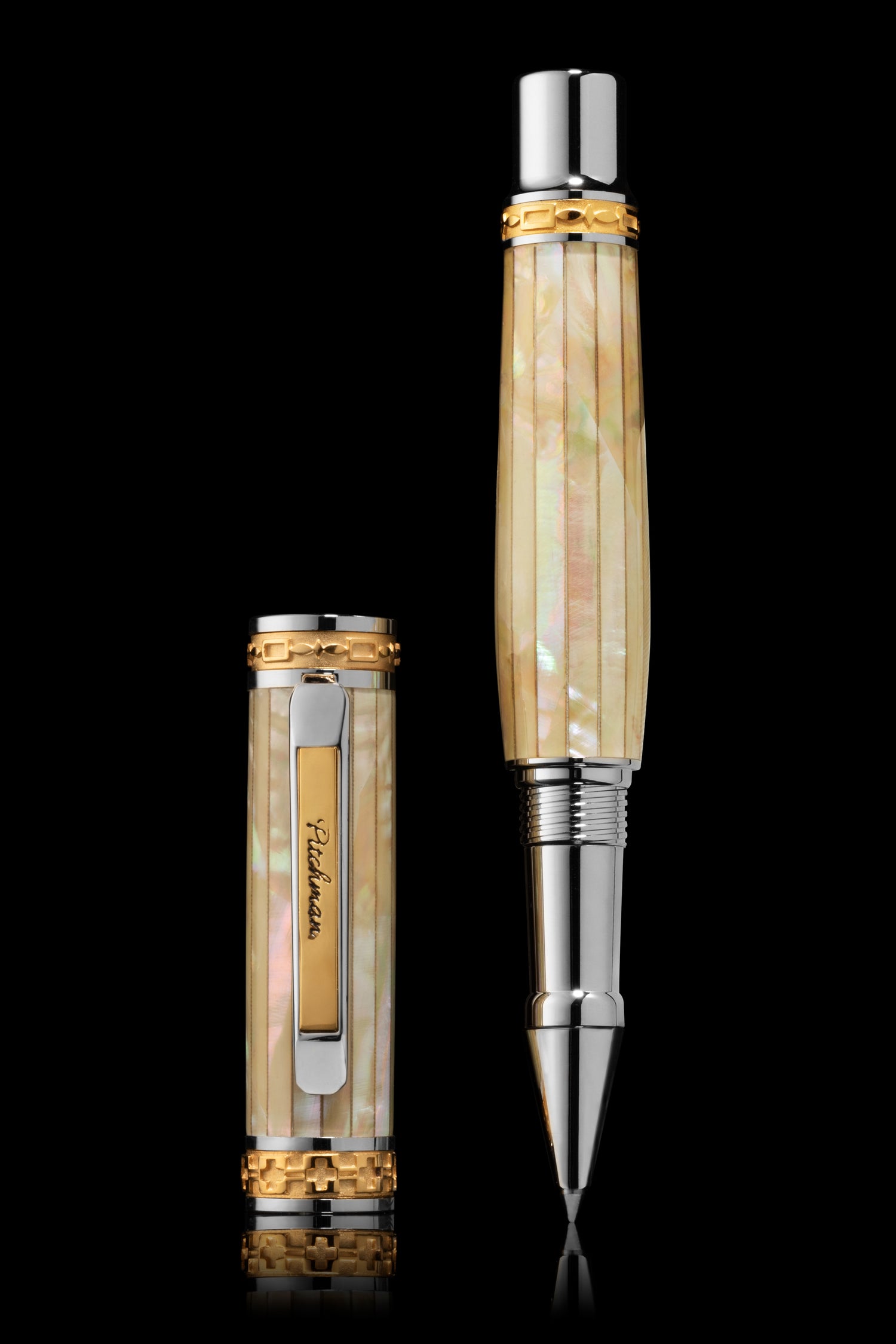 Potent Symbols of Appreciation
Corporate gifts serve as a tangible manifestation of your company's recognition and gratitude. They stand as symbols of acknowledgment, fostering a sense of mutual respect and trust. Whether celebrating a successful collaboration, marking a milestone, or simply expressing your gratitude for a job well done, our luxury pens provide a refined and enduring medium for your appreciation.

Each pen within our collection is a testament to the craftsmanship and attention to detail that defines your brand's commitment to excellence. They are not merely writing instruments but exquisite works of art designed to leave a lasting impression. When you present one of our handcrafted pens as a corporate gift, you're not just offering a writing tool but extending an experience of unparalleled quality and significance.

The act of gifting a luxury pen carries a profound message. It speaks volumes about your company's values, the importance you place on relationships, and your dedication to fostering an atmosphere of appreciation and encouragement. Our pens represent not just a writing instrument but a bridge to strengthen connections and inspire continued success.

In the corporate world, where gestures of appreciation hold considerable weight, choosing a luxury, handcrafted pen as your corporate client gift can be the defining element that sets you apart. It's a tangible reflection of your company's commitment to excellence and a symbol of the enduring relationships you aim to build and sustain.

At Pitchman, we understand the significance of meaningful corporate gifting. Let our collection of handcrafted pens be the conduit through which your appreciation and gratitude are elegantly conveyed, leaving an indelible mark on the hearts and minds of your valued clients and employees.
7 EASY STEPS TO PEFECT GIFTING
Pitchman simplifies the art of corporate gifting. With just ten effortless steps, you can bestow upon your valued clients a gift that will be etched in their memory and cherished for its thoughtful appreciation.
1) PITCHMAN LUXURY PEN BRAND

Founded in 2017 in the heart of the USA, we have proudly emerged as the unrivaled leaders in crafting large-format luxury pens. Our commitment to excellence is epitomized by our limited production of a mere 2,000 pens annually, ensuring each creation receives the utmost care and precision during its meticulous handcrafting process.

Since our inception, our unwavering goal has been to fashion unparalleled writing instruments, distinguished by their uniqueness and sophistication. Pitchman Pens are the embodiment of the sophisticated and the exquisite, designed to exude both boldness and distinction. They are coveted by those who recognize that success, both personal and professional, deserves nothing but the best. A Pitchman Pen is not merely a writing instrument; it is a potent symbol of your success, a testament to your achievements, and a hallmark of the luxury and prestige you embody.
2) METICULOUSLY HANDCRAFTED

Pitchman pens are exquisite writing instruments that embody a harmonious blend of artistry and precision. Handcrafted with meticulous attention to detail, each pen undergoes a painstaking process of creation, involving 48 individual steps that transform raw materials into masterpieces of elegance and functionality.
3) EASY ORDERING

Selection and ordering couldn't be easier. You have the ability of choosing the pen that best befits the recipient or the particular occasion at hand. Alternatively, our corporate ordering system provides the flexibility to empower your recipients, allowing them to select their preferred pen(s). This dual approach ensures that your corporate gifts are thoughtfully tailored to meet both the expectations and preferences of each individual, resulting in an exceptional gifting experience that encapsulates the essence of personalization and consideration.
4) PERSONALIZED TO YOUR BRAND

While our pens maintain their exquisite craftsmanship and are not amenable to engraving or custom branding, we extend an alternative avenue for you to elegantly project your corporate identity. Through the option of embossing your company's distinguished logo onto the wax seal adorning the exterior of the gift box, we seamlessly preserve the intrinsic beauty and uniqueness of our pens while simultaneously extending the reach of your brand.

Additionally, are you seeking to amplify your brand presence or express your heartfelt gratitude to a devoted and esteemed clientele? Our exclusive gifting solutions offer an impeccable medium for accomplishing both, creating an indelible mark on your client relationships while perpetuating the legacy of your corporate identity.
5) SIGNATURE GIFT WRAPPING

Experience the epitome of luxury unwrapping! We firmly believe that exceptional gifts should offer a holistic journey, beginning from the very first moment. In pursuit of this philosophy, we proudly deliver your esteemed Pitchman within our exclusive, bespoke signature gift wrapping. Each package is meticulously embellished with the regal Pitchman logo, elegantly sealed with authentic wax, epitomizing the essence of opulence and prestige.
6) WORLDWIDE SHIPPING

At Pitchman, we take great pride in our global clientele, with valued partners and customers located in various corners of the world. Our commitment to serving your corporate gifting needs knows no borders. Yes, you read it right – we ship to wherever there are mailboxes!

We understand the importance of timely and efficient service in the corporate world. That's why we offer fast and straightforward shipping options, ensuring that your meticulously chosen gifts reach their destinations promptly. With our worldwide reach and seamless shipping solutions, you can count on us to extend the reach of your corporate appreciation and make a memorable impact, no matter where your clients or associates are located.
7) QUESTIONS? READY?

When it comes to addressing your corporate gifting requirements, Pitchman is your dedicated partner. Our commitment extends beyond offering exceptional gifts; we are also here to assist you with every facet of your corporate gifting needs. Do you have more questions, require guidance, or seek tailored recommendations to enchant your customers with the perfect gift?

Rest assured, our knowledgeable team is readily available to provide expert assistance and ensure your corporate gifting experience is as seamless as it is memorable. Whether you're in the initial stages of planning, have specific inquiries, or are ready to embark on this journey, we eagerly await the opportunity to serve you. Your corporate success is our priority, and we look forward to contributing to your journey of building lasting client relationships through the art of extraordinary gifting.

You can reach us by sending an email using the contact form below, or at sales@pitchmanpens.com, through live chat or by calling 678.401.9063, Monday through Friday from 9 AM to 6 PM Eastern Time.
Our Corporate Clients
Hundreds of Corporates Clients

Pitchman Pens has earned the trust of a diverse spectrum of corporate clients, from Fortune 100 giants to small businesses. With a track record of excellence, we've become their preferred choice for client gifting. Our extensive range of high-quality pens and personalized options ensures that each gift is a testament to their unique brand identity, making us the go-to partner for businesses of all sizes seeking to leave a lasting impression.

Coca Cola

Coca-Cola, a distinguished corporate partner of Pitchman Pens, entrusts us year after year with the honor of crafting handcrafted luxury pens for their special guest speakers at their annual meetings. This enduring collaboration exemplifies our commitment to providing top-tier corporate clients with exquisitely tailored, one-of-a-kind gifts that symbolize appreciation and excellence. Coca-Cola's choice to turn to Pitchman Pens is a testament to our unwavering dedication to delivering exceptional gifting solutions, reinforcing our standing as the preferred choice for corporate luxury gifts of distinction.

The Pen they purchase

Professional Exteriors

Professionally Exteriors Inc trusts Pitchman Pens for their corporate clients' gifts because of our shared commitment to excellence and customer satisfaction. Like Pitchman Pens, PEI prioritizes attention to detail and quality craftsmanship, ensuring client happiness. PEI's wide range of services aligns with Pitchman Pens' diverse luxury offerings, making us the perfect choice for their corporate gifting needs.

Amherst Homes

VAD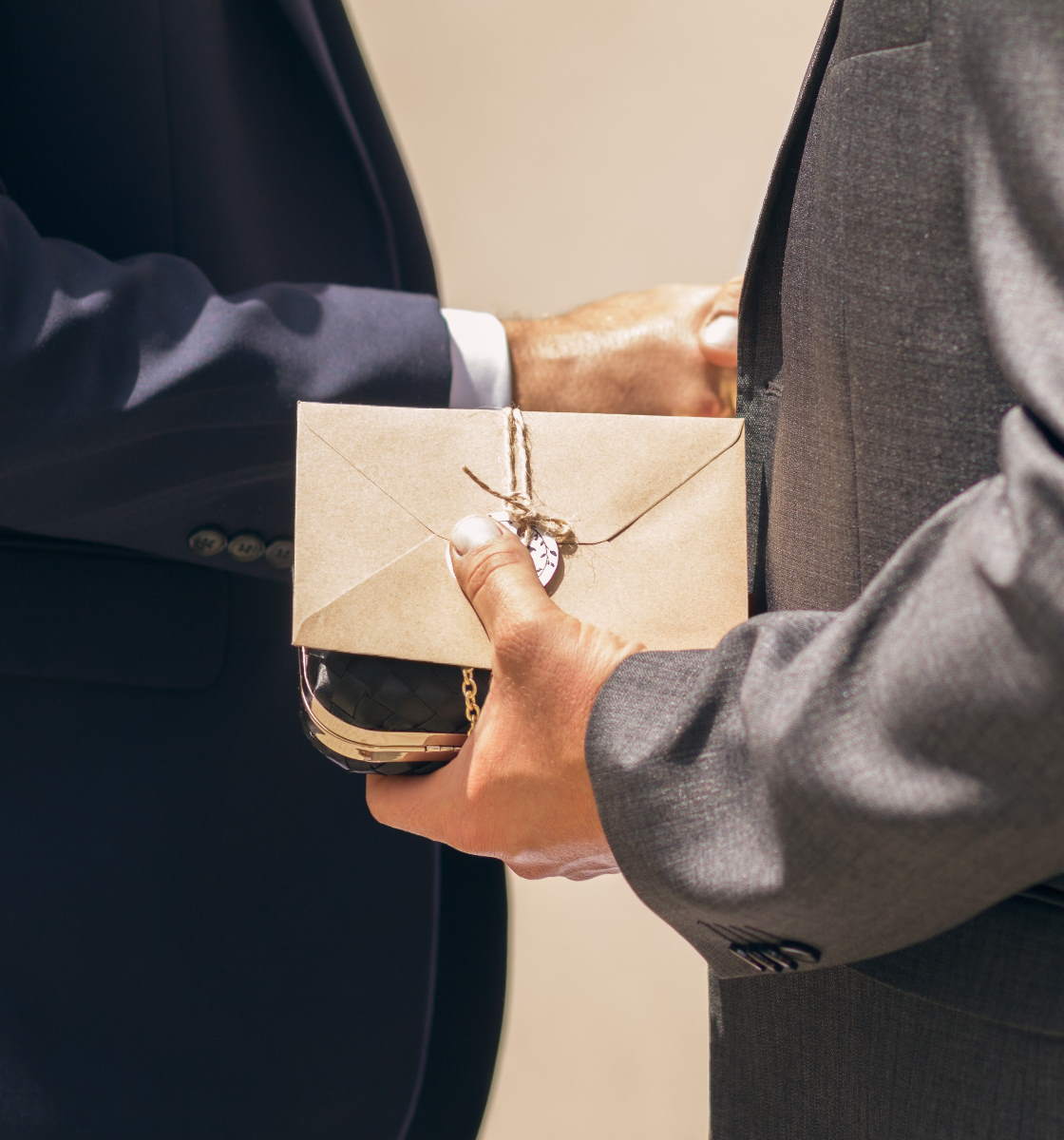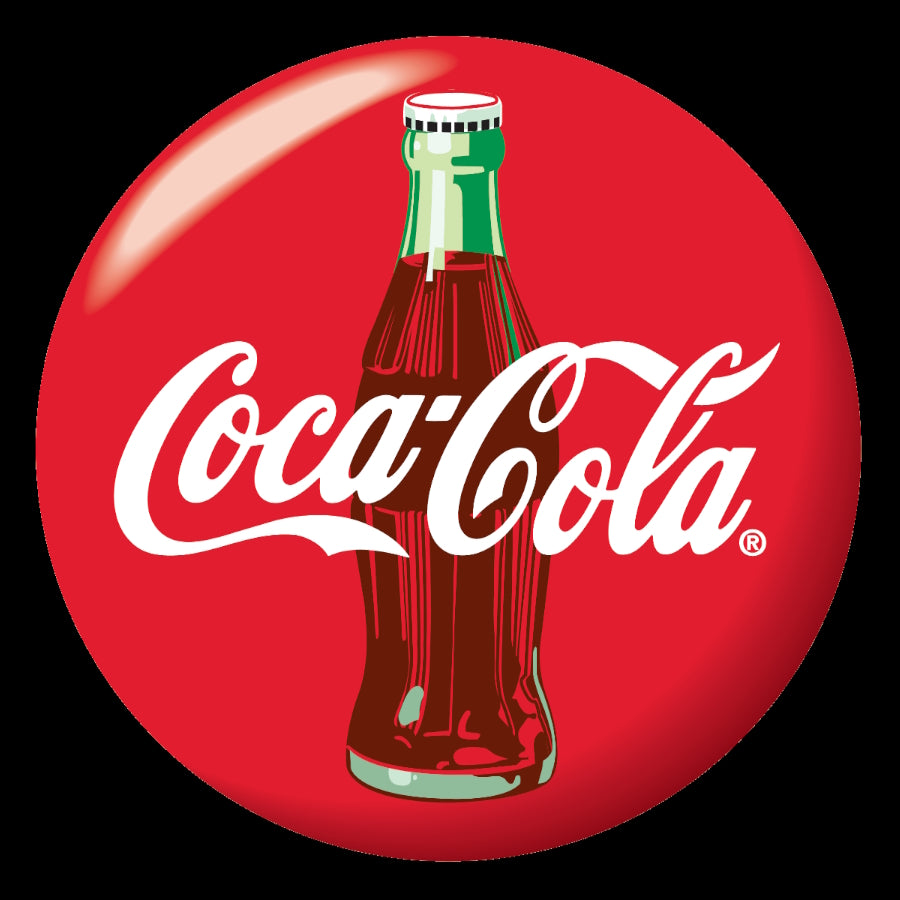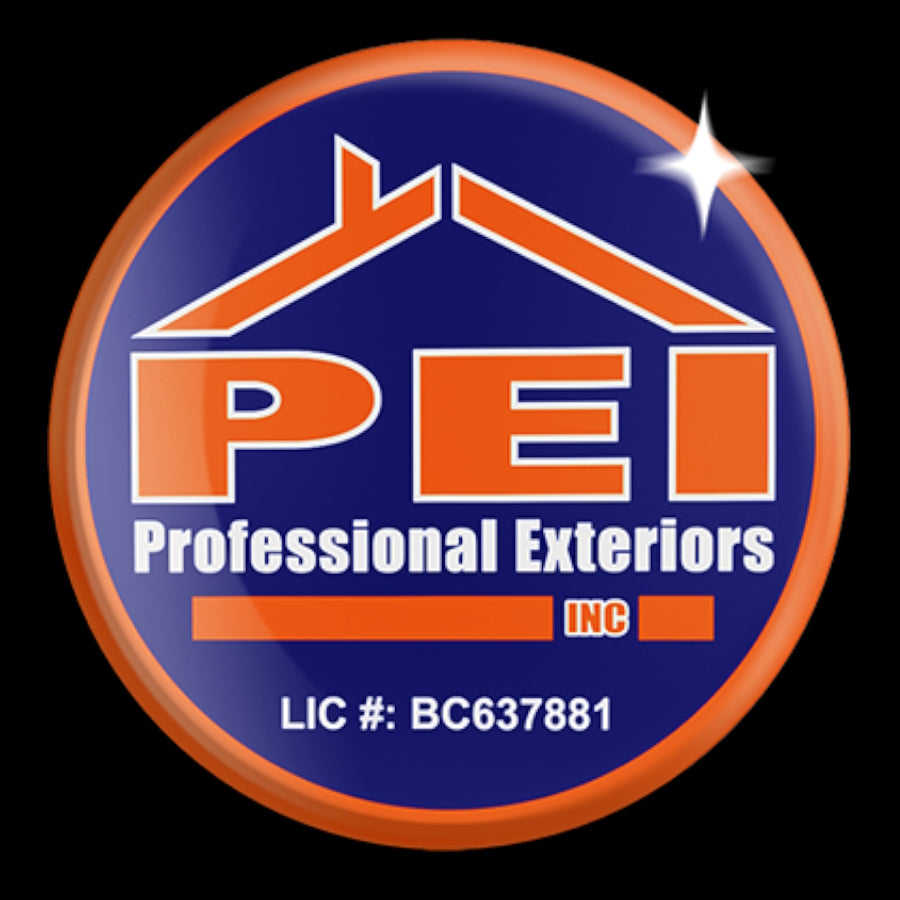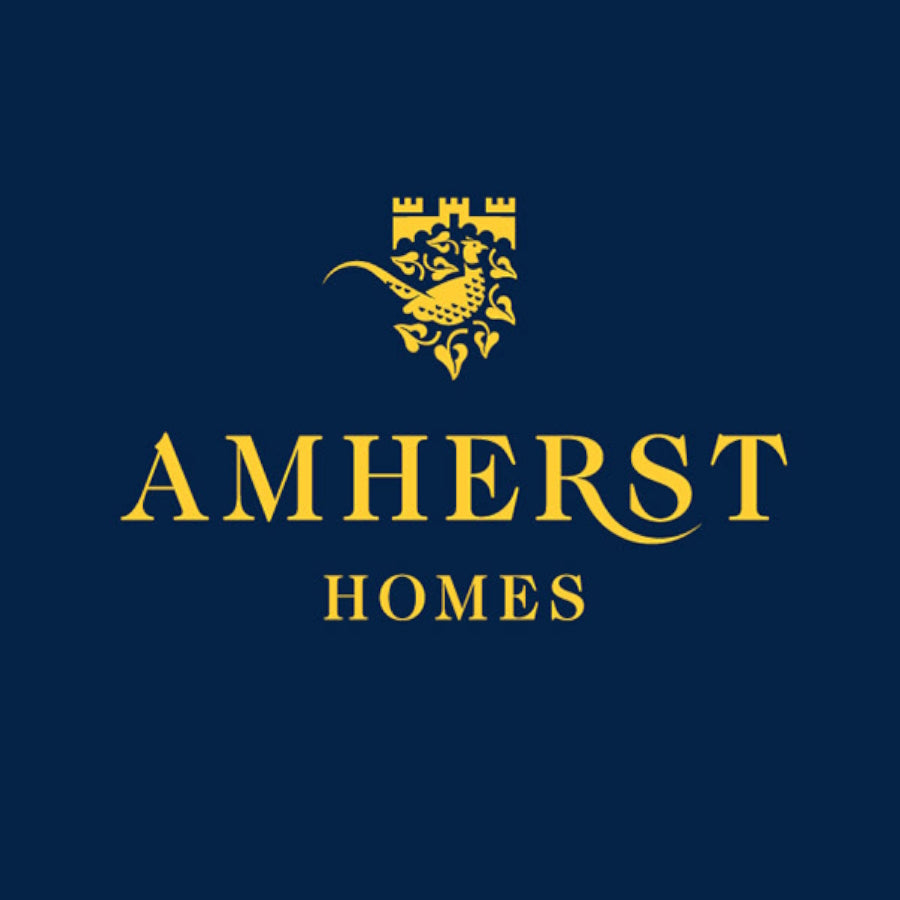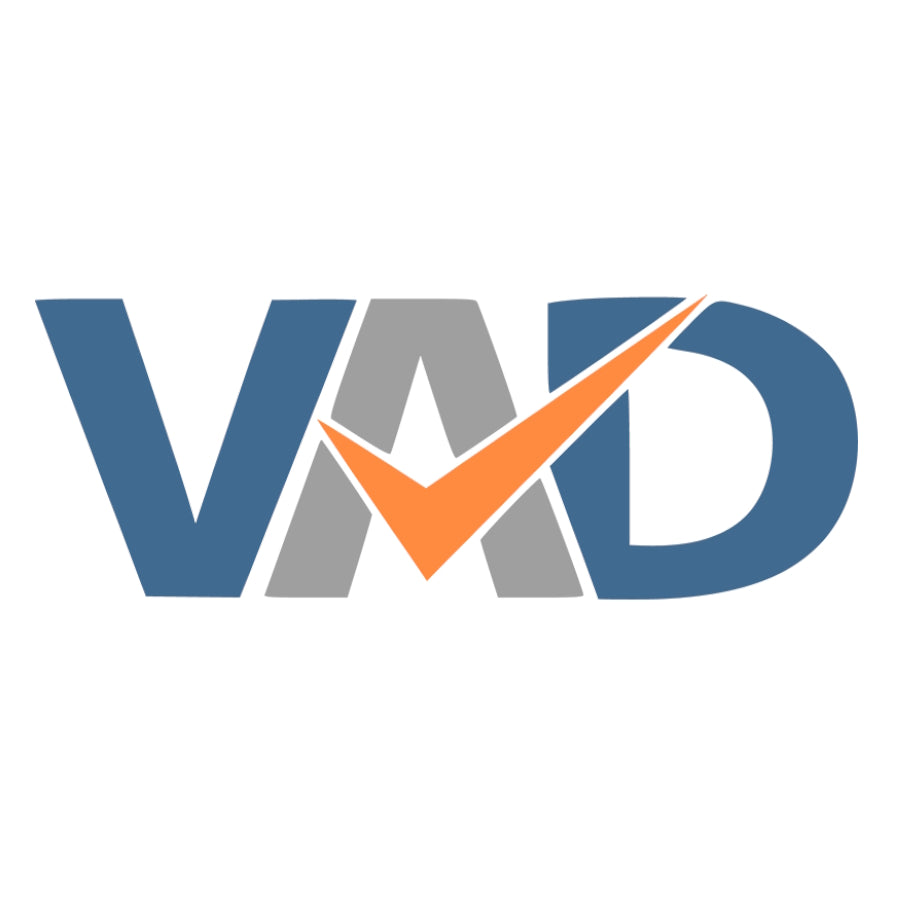 Our Top Selling Corporate Gift Pen
Pitchman skilled craftsman meticulously creates a diverse array of 48 distinct pen variations, ensuring that you will discover the perfect pen to meet your specific needs and cater to your unique customer base.
A Potent Symbol of Your Success™
Corporate Luxury Gifts - Closer LUXE Rollerball Pen White
Pitchman - #1 Large Pen Brand

Established 2017, USA.
The Leader of Large-Format Luxury Pens.
Limited Production: 2,000 pens annually.
Meticulously Handcrafted in the USA.

Since the day we "turned" our first pen in 2017, our goal has been to create meticulously handcrafted, unique, and distinctive writing instruments. Sophisticated and exquisite, bold and distinguished, Pitchman Pens embody personal and professional success and are the prized possessions of their owners. Pitchman Pens are potent symbols of your success.

All Pitchman® Pens are meticulously handcrafted to exacting standards, yet subtle differences make each unique. Pitchman® is the leader in large-format luxury pens. Annual production is strictly limited to 2,000 pens.
About Closer

Looking for exquisite corporate luxury gifts that exude sophistication and refinement? Discover the epitome of elegance with Pitchman's Closer a luxurious handcrafted White Mother of Pearl pen, meticulously handcrafted with a blend of Rhodium and 22 Kt Gold. Elevate your gifting game with this unparalleled masterpiece, perfect for leaving a lasting impression on esteemed clients and partners. Delve into the world of luxury pens and indulge in the artistry that exemplifies the essence of fine craftsmanship. Explore Pitchman Pens' collection today for the ultimate statement in client gifts and corporate luxury gifts. 
Features

Pen
Pāua Abalone Shell (New Zealand)
Rhodium (Very rare precious metal)
22 Kt Gold
Ink Cartridge: Black, Fine
Meticulously handcrafted in Alpharetta, GA, USA
Dimensions & Weight

Closer is a large format, heavy pen.

LENGTH: 5.65 inches | 14.3 cm
WIDTH: .65 inches | 1.66 cm
WEIGHT: 3.15 oz
How they are made

Pitchman pens are exquisite writing instruments that embody a harmonious blend of artistry and precision. Handcrafted with meticulous attention to detail, each pen undergoes a painstaking creation process involving 48 steps that transform raw materials into masterpieces of elegance and functionality.

Pitchman pens are distinguished by our use of rare and exotic materials, including the luminous shimmer of abalone shell, the luxurious gleam of rhodium, the opulent elegance of 22 kt gold, and the understated sophistication of palladium. These premium materials are carefully selected to enhance the pens' aesthetic appeal and durability.

The crafting journey begins with precision cutting on a lathe, carefully shaping the chosen materials into the desired form. Every contour and curve is honed to perfection, ensuring a flawless foundation for the pen's design. Following this, the pens undergo a process of meticulous hand sanding, where skilled artisans work to create a smooth and refined surface that is a joy to touch and behold.

The final step of this intricate process involves polishing, where the pens are meticulously buffed and refined to achieve a lustrous finish that captures and reflects light in all its splendor. The result is a writing instrument that exudes sophistication and grace, a true testament to the artistry of its creators.

Pitchman pens are more than mere writing tools; they are exemplars of craftsmanship and elegance, embodying the dedication and skill of artisans who pour their passion into every detail. With their rare and exotic materials, meticulous handcrafting, and a process that spans 48 steps of precision and care, these pens offer a writing experience that is both functional and awe-inspiring, inviting you to put pen to paper with a touch of luxury and style.
Premium Gift Wrapping

A luxurious unwrapping experience!

Great gifts must deliver a complete experience from moment one. That's why we deliver your new Pitchman in our exclusive signature gift wrapping and embossed with the Pitchman logo in real sealing wax.

You pens comes with:

- Elegant velvet protective storage sleeve
- Cleaning cloth
- Instructions
Warranty

Pitchman offers an International Warranty to the original consumer for two (2) years from the date of purchase.

Your pen has been handcrafted according to the high-quality standards of Pitchman with all the care and patience dedicated to them by our devoted craftsmen. Nevertheless, your pen is covered by the Pitchman International Warranty against defects in manufacturing and materials.
Guarantee

At Pitchman, we are incredibly proud of our craftsmanship, and we feel confident that you will love writing with your new pen. With our Pitchman Happiness Guarantee, you can purchase with confidence, knowing that if you are not fully satisfied with your new pen, return it within 20 days for a refund. Oh, and if you are purchasing the pen as a gift for someone special in your life, the same Happiness Guarantee also extends to them. (So please let them know) Yes, we are confident that the person you're buying for will ultimately be unconditionally thrilled with your purchase.
Fewer than 20 remain in this production run.
Regular price

Sale price

$499.00
---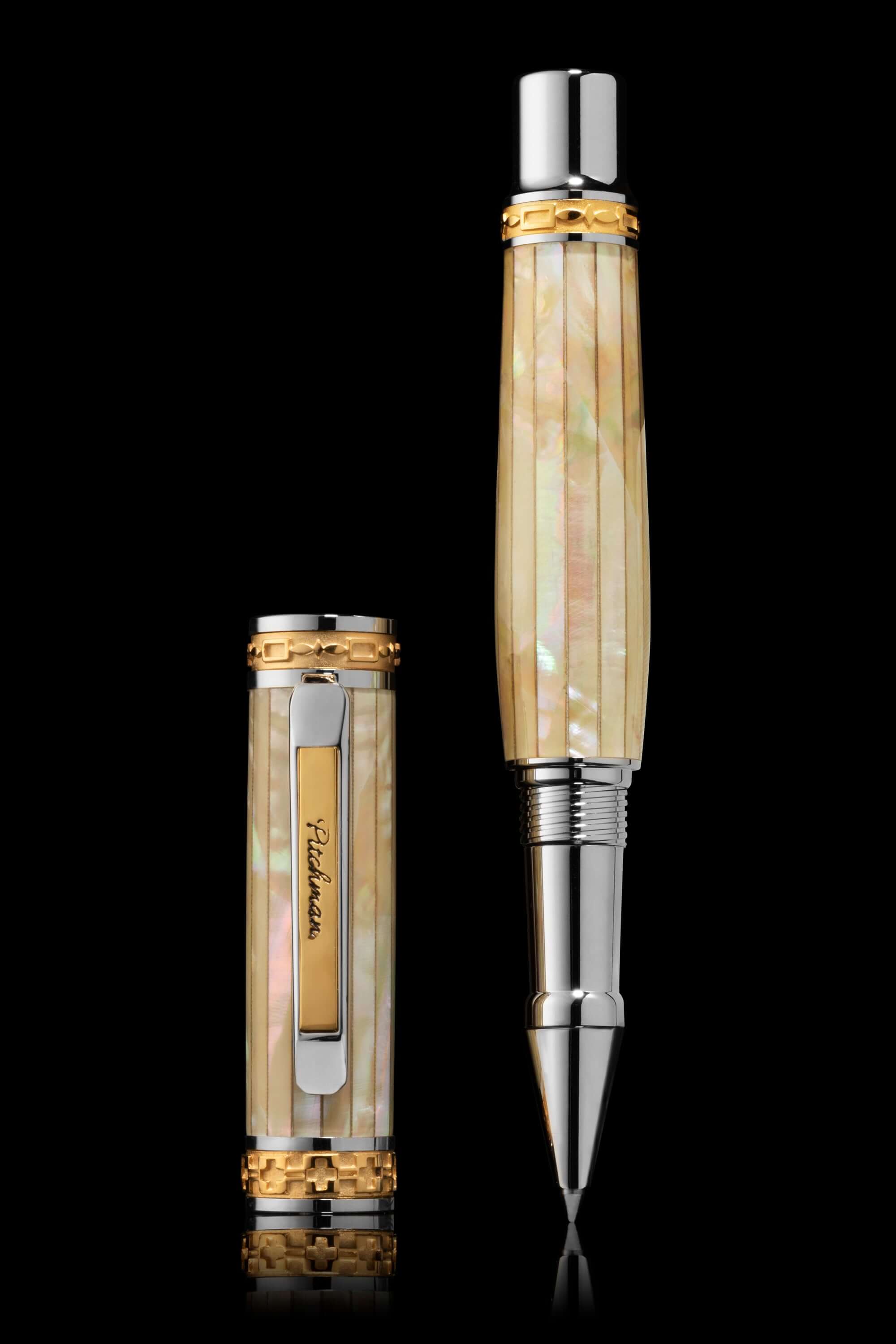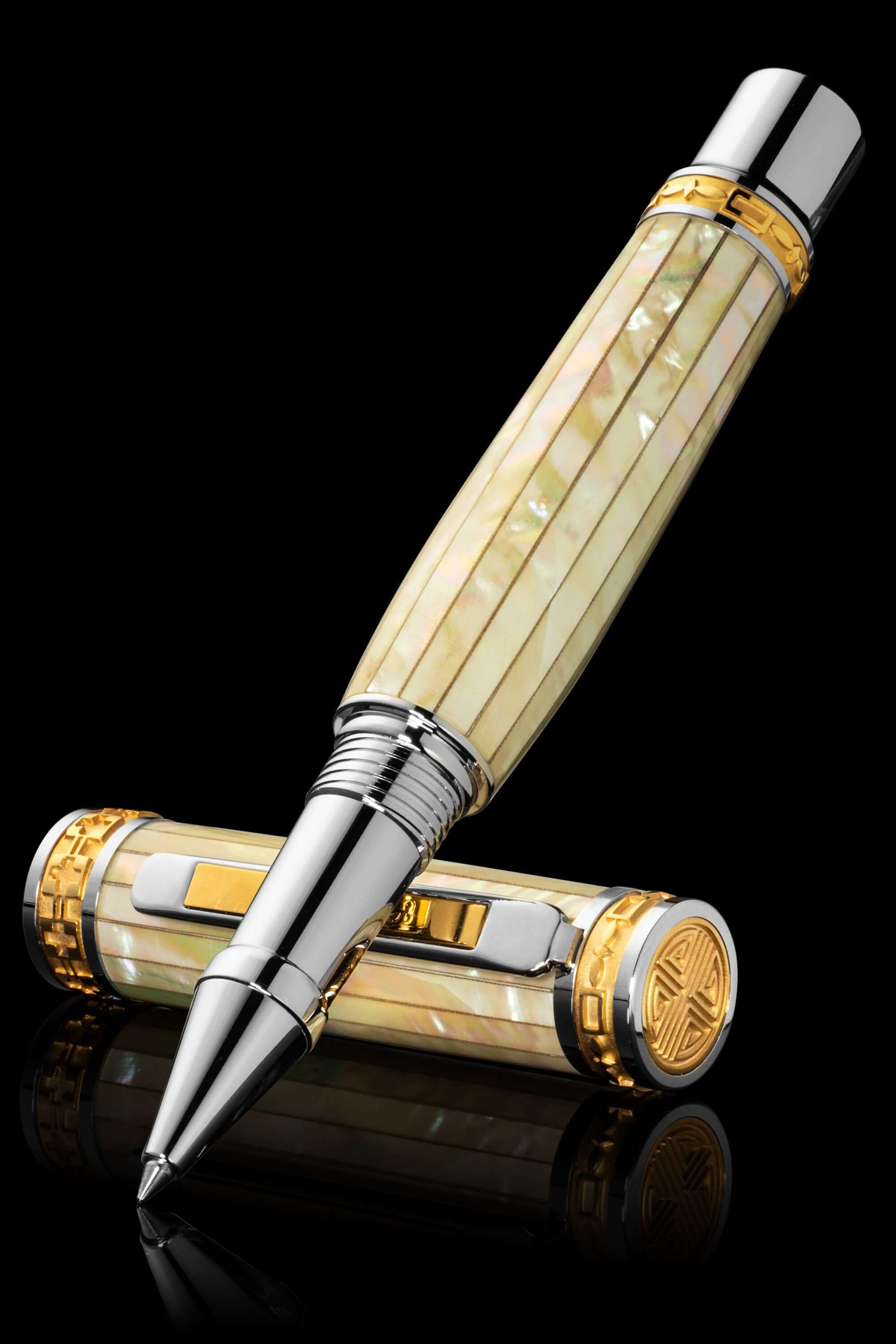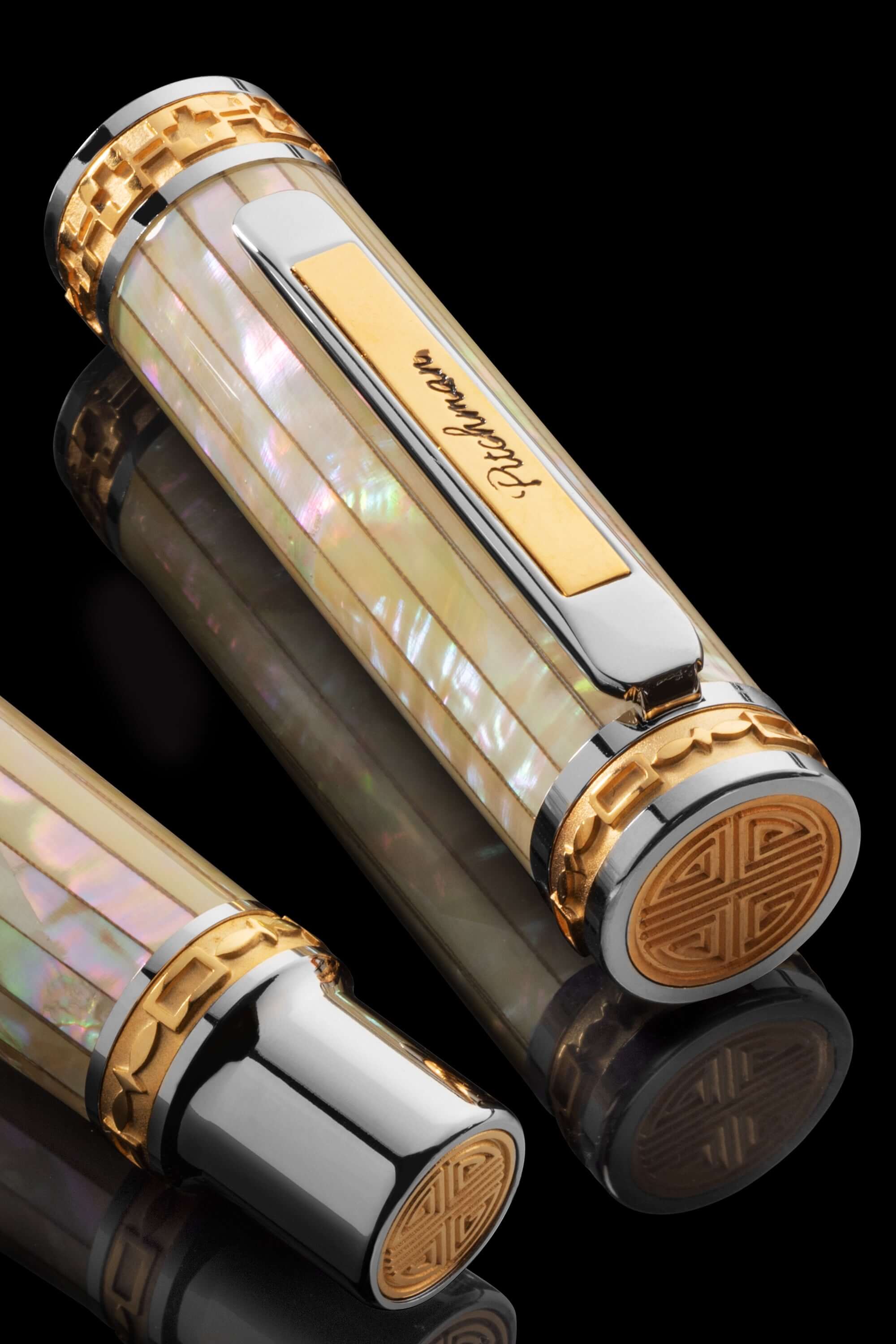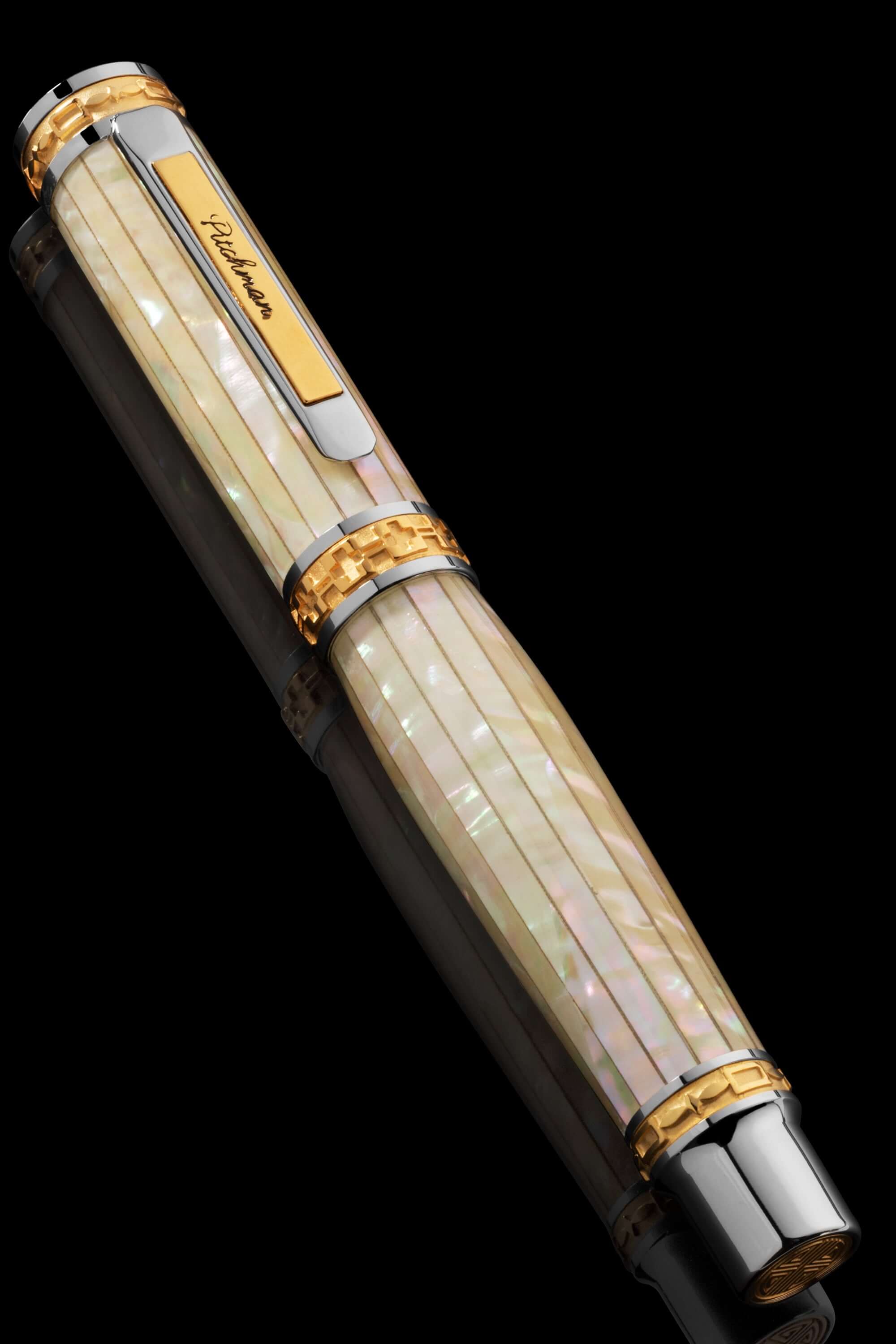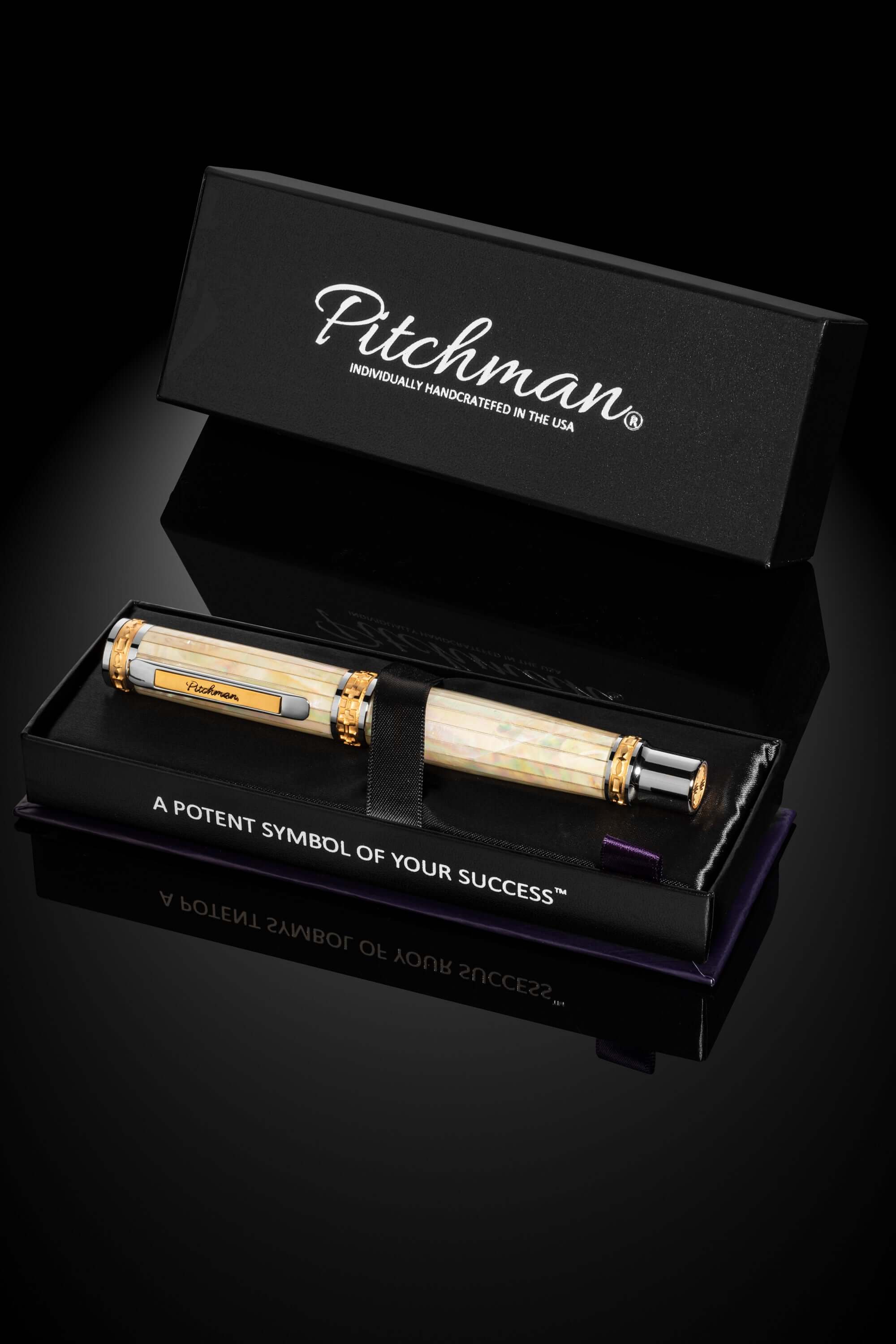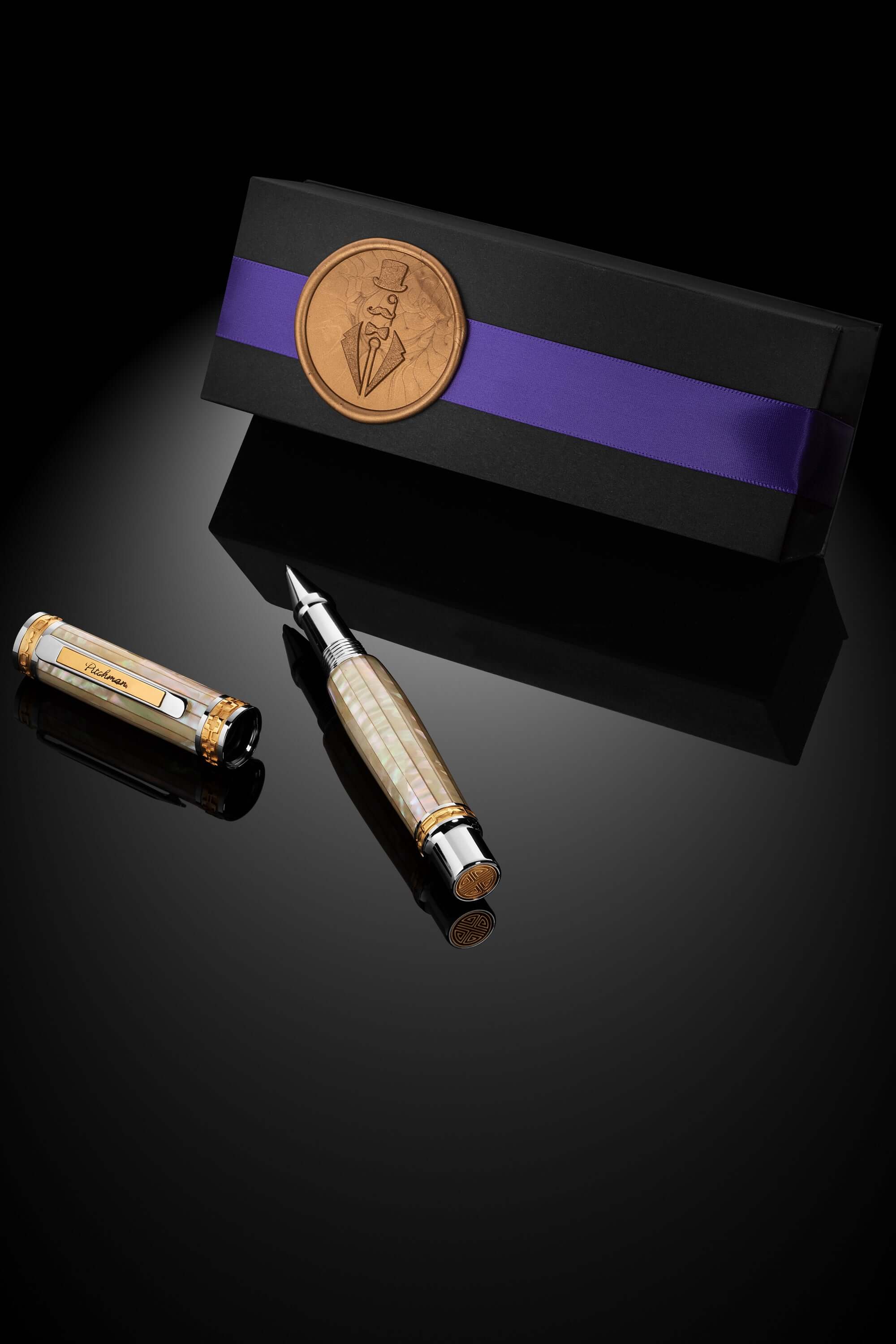 Let's Talk! We will make the gift memorable!