Rainmaker Fountain Pen Blue
ABOUT PITCHMAN

Established 2017, USA.
A Large-Format Luxury Pen Company.
Limited Production Annually.
Meticulously Handcrafted.

Since the day we "turned" our first pen in 2017, our goal has been to create meticulously handcrafted, unique, and distinctive writing instruments. Sophisticated and exquisite, bold and distinguished, Pitchman Pens embody personal and professional success and are the prized possessions of their owners. Pitchman Pens are potent symbols of your success.

All Pitchman® Pens are meticulously handcrafted to exacting standards, yet subtle differences make each unique. Pitchman® is the leader in large-format luxury pens. Annual production is strictly limited to 2,000 pens.
About Rainmaker

Rainmaker features premium 22 Kt gold "lucky bamboo" patterns on both finials ends, the stout clip, and the two accent rings. The cap and barrel are handcrafted with brilliant rhodium and pāua abalone shell, utilizing only the most beautiful part of the abalone in making this exquisite luxury pen.

Precision-balanced, long, and sleek, a slightly beveled barrel makes writing a delight. The innovative contoured tip is specially designed for comfort and correct positioning of the fingers. It is light weighted for a rich, tactile experience. Immaculate in its presentation, Rainmaker is an elegant, everyday option, an executive pen that draws all eyes to you.
Features

TYPE: Fountain Pen
NON-POSTABLE CAP
NIB: Gold plated steel, Floral design, Medium,
CAP: 22 Kt Gold
BARREL: Pāua Abalone Shell
HANDCRAFTED: Meticulously handcrafted in Alpharetta, GA, USA
Dimensions & Weight

Rainmaker is a medium format, medium weight pen.

LENGTH: 5.70 inches | 14.4 cm
WIDTH: .61 inches | 1.56 cm
WEIGHT: 2.60 oz
How they are made

Pitchman pens are exquisite writing instruments that embody a harmonious blend of artistry and precision. Handcrafted with meticulous attention to detail, each pen undergoes a painstaking creation process involving 48 steps that transform raw materials into masterpieces of elegance and functionality.

Pitchman pens are distinguished by our use of rare and exotic materials, including the luminous shimmer of abalone shell, the luxurious gleam of rhodium, the opulent elegance of 22 kt gold, and the understated sophistication of palladium. These premium materials are carefully selected to enhance the pens' aesthetic appeal and durability.

The crafting journey begins with precision cutting on a lathe, carefully shaping the chosen materials into the desired form. Every contour and curve is honed to perfection, ensuring a flawless foundation for the pen's design. Following this, the pens undergo a process of meticulous hand sanding, where skilled artisans work to create a smooth and refined surface that is a joy to touch and behold.

The final step of this intricate process involves polishing, where the pens are meticulously buffed and refined to achieve a lustrous finish that captures and reflects light in all its splendor. The result is a writing instrument that exudes sophistication and grace, a true testament to the artistry of its creators.

Pitchman pens are more than mere writing tools; they are exemplars of craftsmanship and elegance, embodying the dedication and skill of artisans who pour their passion into every detail. With their rare and exotic materials, meticulous handcrafting, and a process that spans 48 steps of precision and care, these pens offer a writing experience that is both functional and awe-inspiring, inviting you to put pen to paper with a touch of luxury and style.
TWO YEAR WARRANTY

Pitchman offers an International Warranty to the original consumer for two (2) years from the date of purchase.

Your pen has been handcrafted according to the high-quality standards of Pitchman with all the care and patience dedicated to them by our devoted craftsmen. Nevertheless, your pen is covered by the Pitchman International Warranty against defects in manufacturing and materials.
Happiness Guarantee

At Pitchman, we are incredibly proud of our craftsmanship, and we feel confident that you will love writing with your new pen. With our Pitchman Happiness Guarantee, you can purchase with confidence, knowing that if you are not fully satisfied with your new pen, return it within 20 days for a refund. Oh, and if you are purchasing the pen as a gift for someone special in your life, the same Happiness Guarantee also extends to them. (So please let them know) Yes, we are confident that the person you're buying for will ultimately be unconditionally thrilled with your purchase.
Premium Gift Wrapping

A luxurious unwrapping experience!

Great gifts must deliver a complete experience from moment one. That's why we deliver your new Pitchman in our exclusive signature gift wrapping and embossed with the Pitchman logo in real sealing wax.

You pens comes with:

- Elegant velvet protective storage sleeve
- Cleaning cloth
- Instructions
COURTESY LIFETIME CLEANING

At Pitchman, we are committed to ensuring that your cherished writing instruments retain their beauty and functionality for a lifetime. That's why we proudly offer our exclusive "Lifetime Cleaning Service" – a testament to our dedication to the quality and longevity of your pen collection.

Complimentary, Yearly Maintenance:

Our Lifetime Cleaning Service is a value-added benefit provided to all our customers, free of charge. Once a year, you have the opportunity to send in your pen for a meticulous rejuvenation.

Renew and Rejuvenate:

Our skilled artisans specialize in the art of pen maintenance, and their expertise is evident in every facet of our cleaning process. When you entrust your pen to us, you can expect a comprehensive service that includes the following:

1. Buffing and Polishing: Our technicians will meticulously buff and polish your pen, paying careful attention to the resin body and precious metal parts. This meticulous process is designed to remove minor scratches, scuffs, and imperfections, restoring your pen's lustrous finish.

2. Precious Metal Care - Expert Craftsmanship:

Your pen features precious metal accents such as gold, silver, rhodium, titanium, or platinum; rest assured that we take this aspect of the cleaning process very seriously. Our skilled artisans will meticulously care for your precious metals, utilizing only the highest quality metal cleaner, specially chosen to ensure their long-lasting brilliance. Each precious metal component will be hand-buffed to perfection, guaranteeing that your pen's distinctive accents shine with the utmost luster, free from tarnish or imperfections. We treat every precious metal detail as a work of art, ensuring your pen maintains its exceptional beauty and elegance.

Return Shipping Convenience:

We understand that you treasure your writing instrument, and that's why we've made the process as convenient as possible. When it's time for your yearly cleaning, you're responsible for shipping the pen to our dedicated service center using a trusted courier of your choice. Once your pen is rejuvenated and gleaming like new, we'll send it back to you at no extra cost.

With Pitchman, you're not just purchasing a pen but investing in a writing instrument that will accompany you through your most important moments in life. Our Lifetime Cleaning Service expresses our commitment to ensuring your pen remains a timeless work of art and a faithful writing companion.

Discover the joy of using a pen that always looks as good as the day you first received it. At Pitchman, we're honored to extend this extra mile of care and craftsmanship to you, our valued customer. Embrace the art of writing, and let us keep your pen's beauty and functionality pristine for a lifetime.
Regular price

Sale price

$349.00
---
Questions? Contact Us

You still have questions?

EMAIL: sales@pitchmanpens.com
PHONE: 1-678-401-9062 (9 am to 6 pm EST)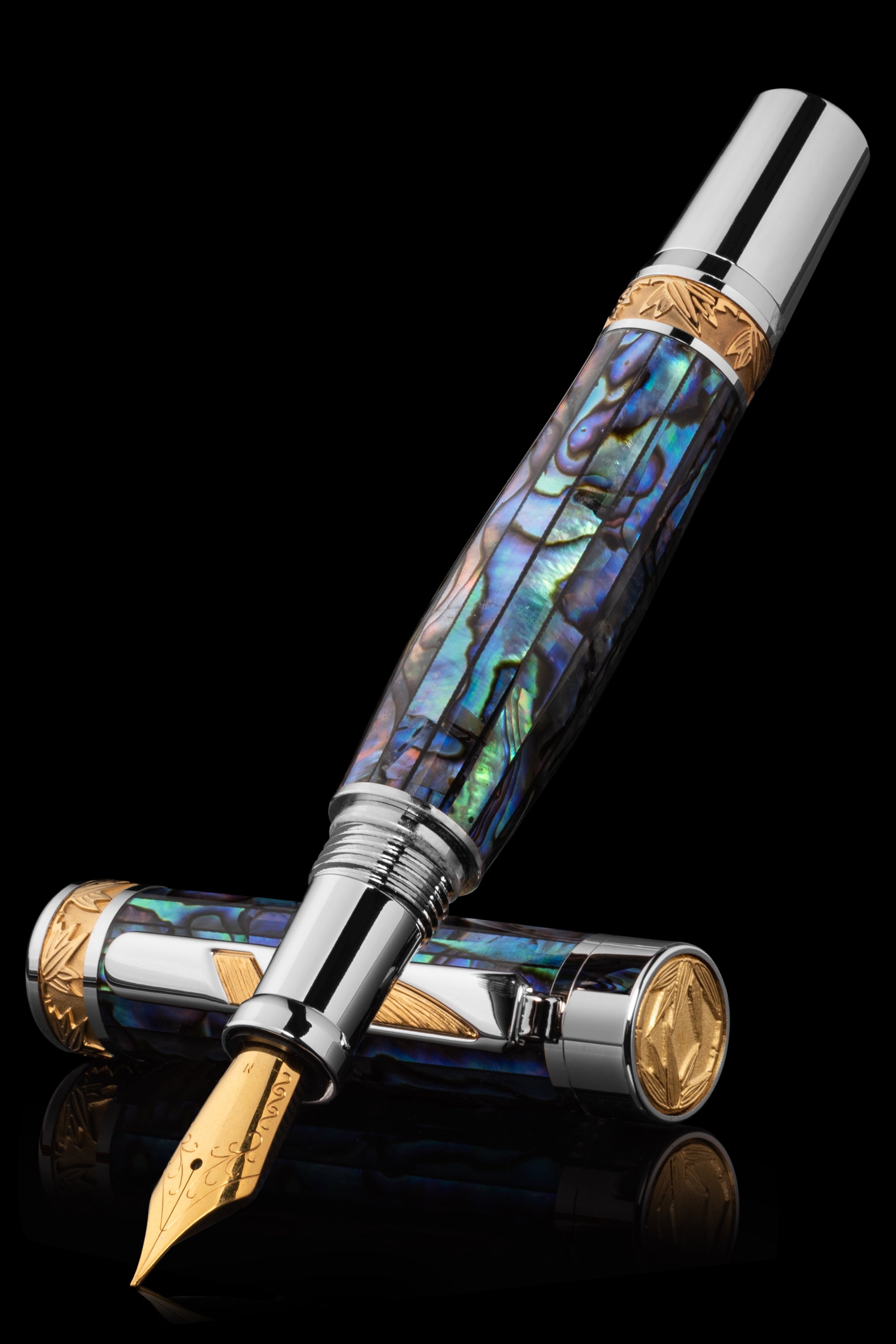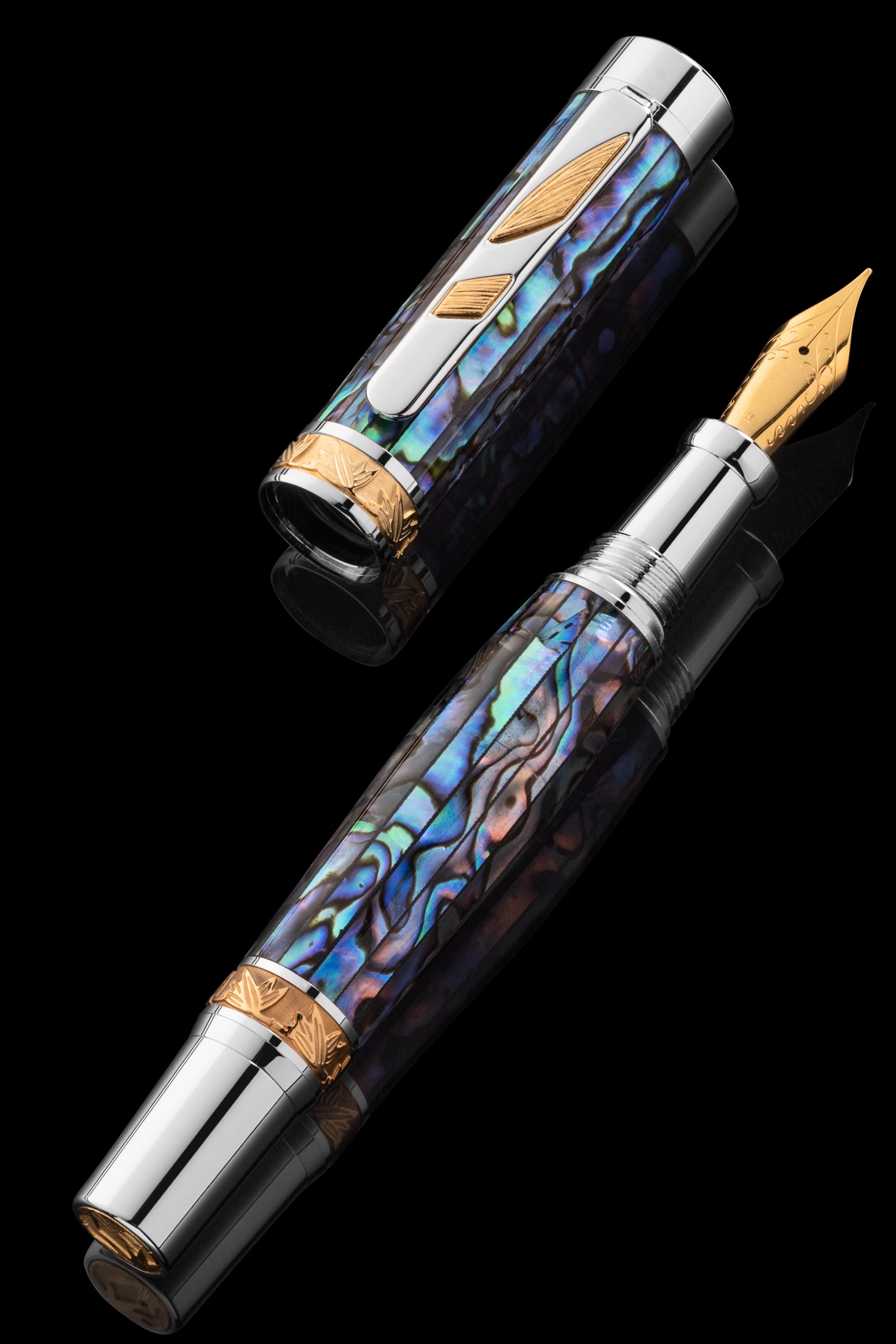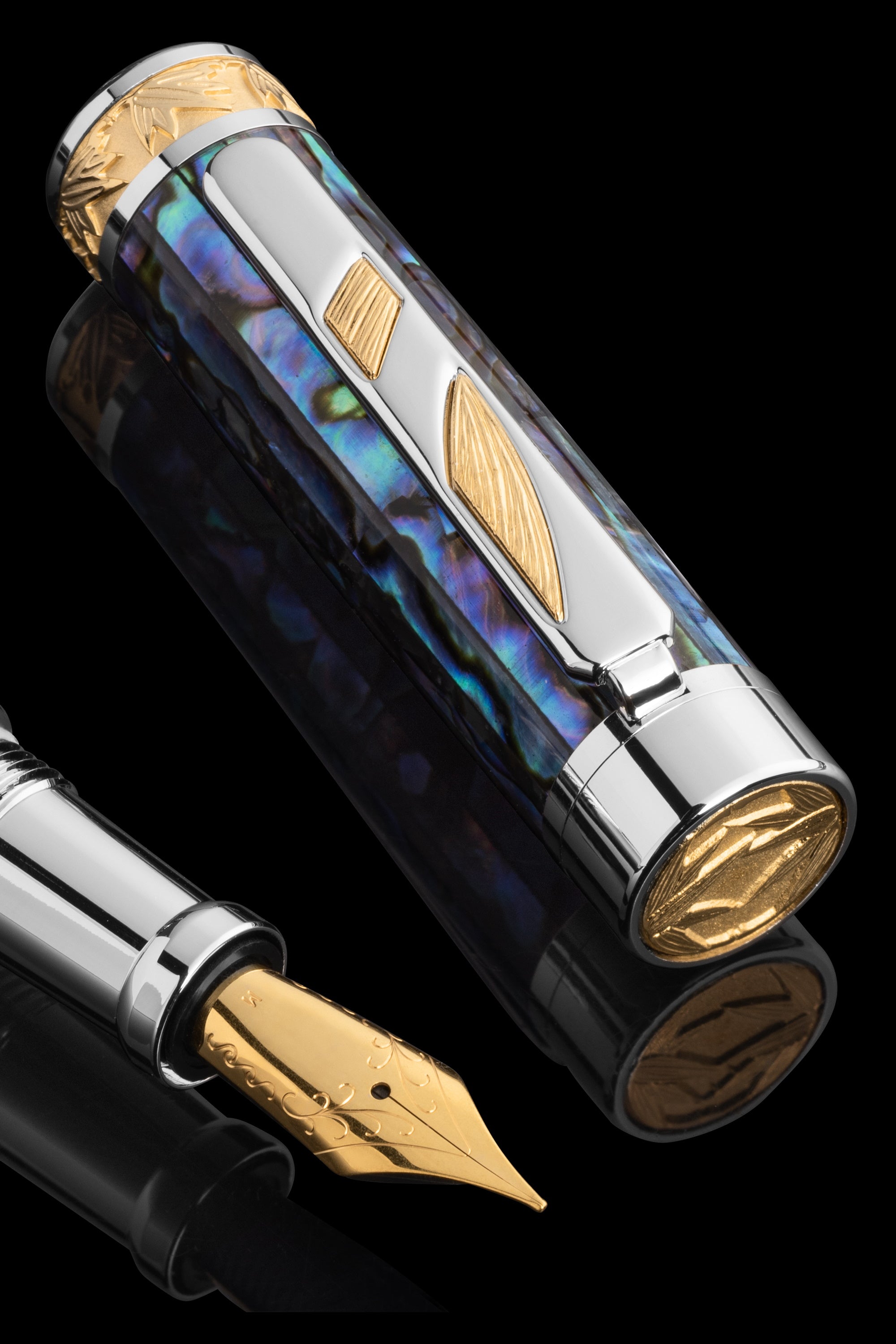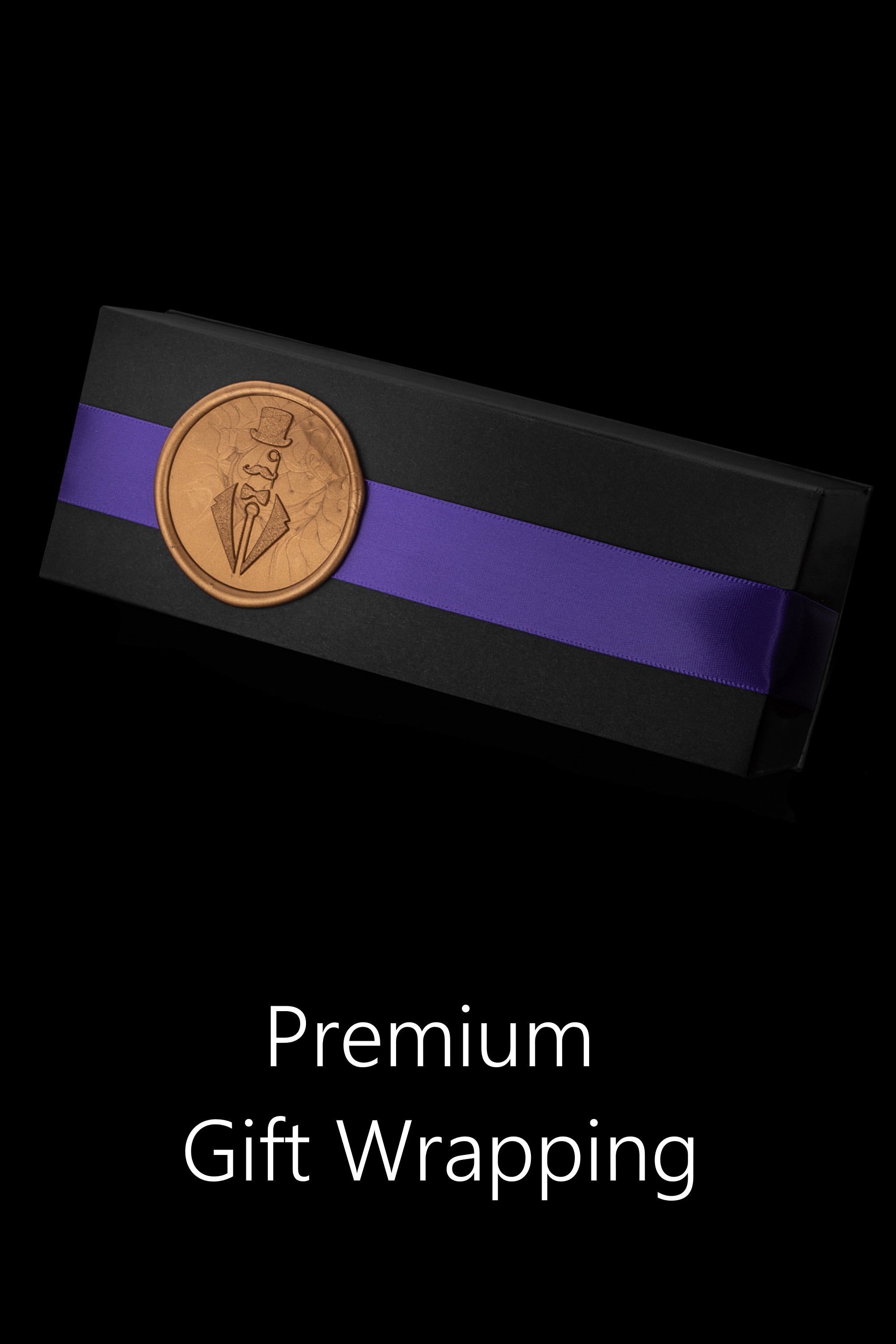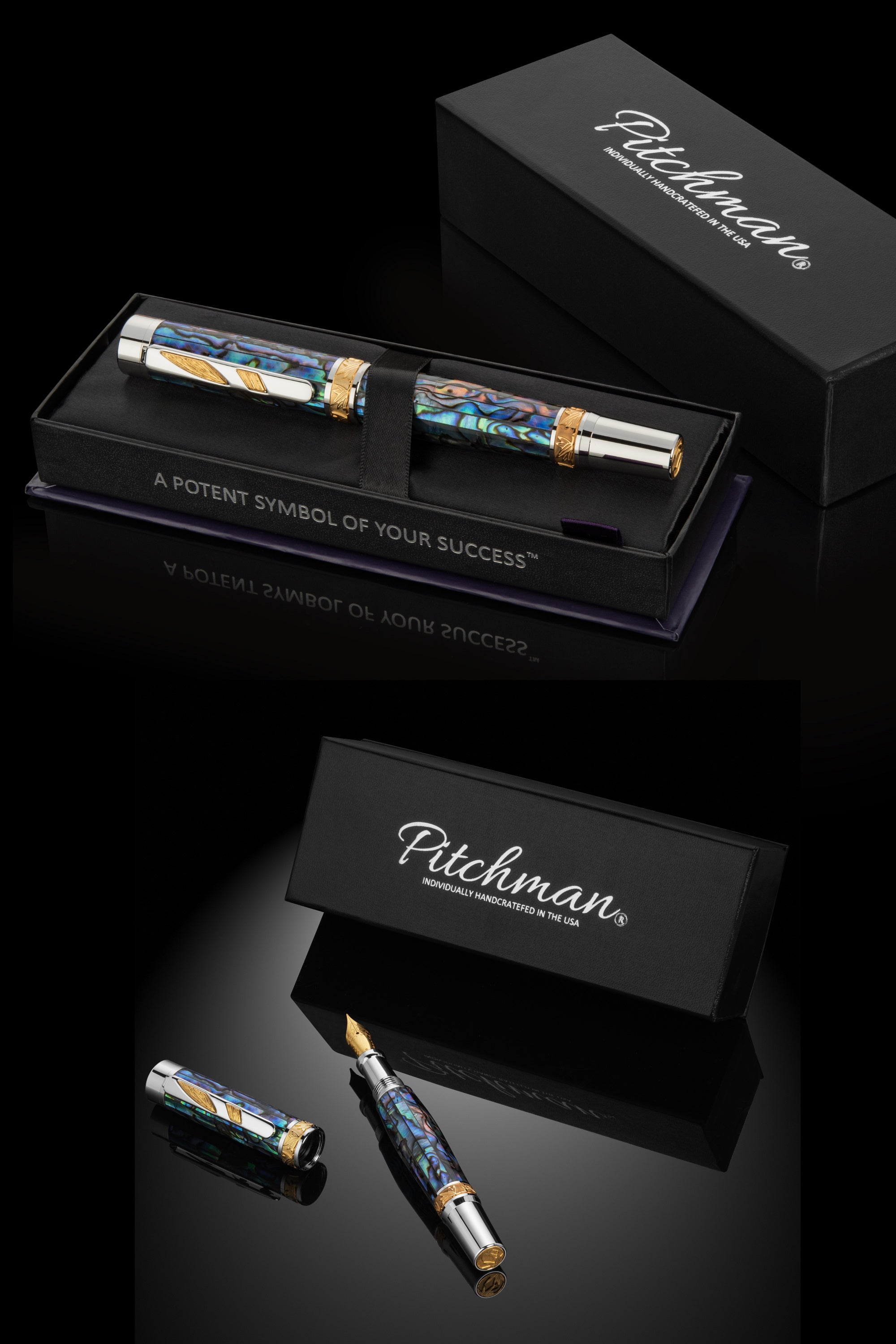 More from this collection
A Potent Symbol of Your Success
Success is measured not so much by the position one has reached in life but by the obstacles one has overcome. At Pitchman, we view a luxury pen as a potent symbol of one's success and a constant reminder of those obstacles overcame. A Pitchman is a significant symbol of wealth, prosperity, and success.
FAQs
Are your pens really handmade?

Yes. Our pens are meticulously handcrafted by trained artisans and master pen makers with over 15 years of experience creating these fine writing instruments. Production is strictly limited to 2,000 pens annually.
Where are your pens manufactured?

Each pen is meticulously handcrafted, made to order in Alpharetta, GA, USA.
Can your pens be engraved?

We are honored that so many want to put their names on our pens, but unfortunately, due to the exotic materials we use to create these works of art, engraving would damage the pen. Others have tried after they have purchased the pen, only to destroy it - please trust us on this one.
Do you have corporate services?

Yes. Please contact us at sales@pitchmanpens.com for more information.
How long has Pitchman been making pens?

We started making pens in 2017; we have handcrafted more than 10,000 pens since then.
Corporate Clients